CA SHIBU DAS
Shibu is a Science Graduate and a member of The Institute of Chartered Accountants of India since 1989. He has over 20 years of experience in the areas of Investment Banking, Private Banking and Insurance.
He is a seasoned private banker and specializes in providing wealth management solutions to high net-worth individuals, corporations and trusts.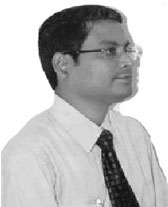 Copyright © Gliese Consulting Pvt. Ltd. 2011. All Rights Reserved. A Fine Advice Initiative.
Login
News & Events
CLIENT SPEAK
I must convey that they are very much devoted with their work. They chase and liaison with the concerned department meticulously. At the end they are meant for results not for gossip or story-making. Regards

Dr. Anup Kumar Ghosh.

(Director, S.D. College of Management, Panipat)

Found the investment advice and EPF services very useful.

CA Purnojit Chatterjee.

(Manager Business Planning, Shell, Chennai)